Lynn Osterkamp by Traditional Publishing: Which Comes First, Art Or Business?
Traditional Publishing: Which Comes First, Art Or Business?
by Lynn Osterkamp
The state of publishing today is a huge topic of discussion among writers. A major point of dispute is the criteria publishers use to select books—which mainly goes to what you see as a publisher's primary goal. Here, in an admittedly oversimplified synopsis, are the two main positions:
1. Publishing is a business. Publishers primarily want to publish best-sellers. They need to make enough profit on the books they publish to keep their businesses financially lucrative. So they choose the books that they believe will be hot, that they think will sell and sell well. And they shape the books to be as marketable as possible.
2. Publishing is an art. Publishers primarily want to publish great books that readers will find thought-provoking, entertaining, and inspiring. So they choose the books that are the most original, smart, well-written, brilliant, gripping and memorable.   And they work with the authors to revise and improve their manuscripts before the book is published.
Here's why does this debate matters. If #1 is true and publishing is mainly a business, then the books selected by major publishers are those that have the most potential to make money—either because the author or topic is hot, or because the sales department can make them hot. This view holds that you can't judge the quality of one book vs. another by looking at which one was published by a traditional publisher.
If #2 is true and publishing is mainly an art, we must follow the thinking of the old guard.  They believe publishers choose books based mainly on quality and that having a book selected for publication by a traditional publisher is an indicator of excellence. In support of that position, it is true that the big commercial publishers have brought us many great books that we love to read and re-read.
But these publishers have also brought us fake memoirs, plagiarism, books by non-writer criminals, mediocre books with predictable plots and tiresome characters, and plenty of other trash. So there is a lot of evidence supporting #1.
My personal experience also goes to #1. My nonfiction book, How To Deal With Your Parents When They Still Treat You Like A Child, was published by Berkley Books in 1992. As an academic gerontologist with a focus on communication, I saw a need for a popular book that dealt with the issues adults face in trying to get along better with their parents. I submitted a proposal and a couple of sample chapters to a NYC agent who began shopping it around to publishers. Initially there was interest and my agent suggested we might have an auction among several publishers. But then the sales departments began to weigh in, suggesting the book wouldn't sell well enough (no one ever told me why they thought that), so there was no auction. My agent continued showing the proposal to publishers until Berkley took it on. There too the sales department ruled, changing my original title and insisting I make the book longer than I thought it needed to be so that readers "would think they were getting their money's worth."
I have to admit that when my book was picked up by a NYC agent and publisher, I was a believer in #2. I felt honored that my book had been selected. I thought I would have one of those great relationships with an editor that I'm always reading about on books' acknowledgements pages. I was naïve. My first editor left the company almost as soon as I signed my contract. I had little contact with the next one. I've learned since that my experience wasn't unusual.
Today, as I've said, I'm in the publishing as business camp. I believe that having a book selected by a traditional publisher means only that they think it will sell.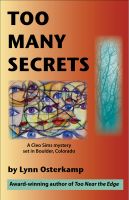 Sabrina Larson wants her fortieth birthday to be a major milestone—the beginning of a new life. But it looks more like the end for the Boulder, Colorado nurse when she mysteriously disappears while celebrating with her women's group in a mountain wilderness area.
Search teams comb the region for days, but find no trace of her. Close friends and family fight bitterly amongst themselves telling different stories about what happened. Is she dead? Kidnapped? A runaway?
Cleo Sims, a local grief therapist who has discovered a process that lets grieving people contact the spirits of departed loved ones, is pulled in to help by one of Sabrina's friends who is desperate to find out the truth. Cleo is reluctant to involve herself in yet another possible murder investigation, but the friend's brother is Cleo's benefactor who funds her Contact Project. When he prevails on Cleo to help find out what happened to the missing woman, she can't refuse.
As the search goes on and the mystery deepens, Cleo finds herself digging into some dangerous secrets. As usual, her persistence, curiosity, and compassion keep her enmeshed in the investigation even when new developments threaten the very core of her personal life.
Too Many Secrets is the third book in the award-winning Cleo Sims mystery series set in the mountain community of Boulder Colorado. Like the others, it can also be read as a stand-alone book.
Buy Now @ Amazon & Smashwords
Genre – Mystery
Rating – PG
More details about the author
Connect with Lynn Osterkamp on Twitter